Symptoms and Ailments

It might seem very confusing if not overwhelming to the inexperienced to find so many varied opinions on the subject of goldfish: Goldfish care, like politics is not black and white. Sometimes there is no right or wrong, and diagnosis can be extremely difficult in many cases. Because of this difficulty; it is preferable to treat symptoms. What works for one tank with one fish, will not always work on another, and unfortunately, sometimes nothing works. Diagnosing Symptoms

Have you recently medicated your goldfish tank?
Since there are limited reliable resources available for treating ailments and diseases of the goldfish; the process of elimination is the standard procedure. Try the least invasive or least dangerous route first, making sure you've done everything possible before resorting to medications.

Glossary of Terms Parts of a Goldfish Anesthetizing Goldfish Wen Trim or Removal Lodged Stone Fish Out of Water

Typically, the root of the problem has to do with poor water quality, stemmed from overfeeding, improper water changes, improper surface action or improper housing. Medicating a fish in bad water is pointless and will more than likely push it over the edge. Most symptoms listed on this site are caused by poor water quality, which should be considered as a condition, not a disease. Natural Remedies
Anything wrong with your goldfish very likely related to its environment; its tank, aquarium or pond water.

Bubble Disease Oxygen Deprivation Bacteria, Friend or Foe?

Floating Issues Nitrate; the Gentle Giant



The fantail goldfish in this photo has suffered from oxygen deprivation, combined with a pH crash; topping it off with ammonia poisoning from living in a tank that wasn't cycled. Its symptoms are; clamped fins; red gills; bleeding from the eye or pop eye
Avoid medicating; typically, in the case of the amateur goldfish keeper, medications do more harm than good; killing the friendly bacteria in your tank or aquarium. If the conditions of your water parameters are not good, medications will more than likely kill your fish; extreme caution is advised. Be patient; with the proper care and nutrition most of these afflictions can be conquered naturally. Even though they mean well, pet shops often give poor advice for goldfish care, the nutrition, and the treatment for goldfish diseases and parasites. Learn all you can about your goldfish on the net, a world of good advice and some bad is at your fingertips. Some experts are of the breeder mentality, sacrificing the one for the good of all, but this websites purpose is to benefit the individual goldfish keeper. Allow your common sense, your intuition, and even your pocket book to be your guide when it comes to goldfish care.

Medicating Our Goldfish
Goldfish Photos

Posted by members; some have survived and some have died. They all share in suffering from poor water quality; which include one or more of the following; ammonia, nitrite, nitrate poisoning; oxygen deprivation; over medicating; high temperatures; constipation; water pressure and harmful bacteria infection
clamped fins; white burns caused by ammonia poisoning (or high KH levels on rare occassion)
black marks; healing burns caused by ammonia poisoning
red streaks in tail caused by nitrite poisoning


broken blood vessels on body caused by nitrite poisoning and septicemia (on rare occasion)


bent positioning caused from high nitrate levels




poor general health caused by fasting; poor water quality

bulging side caused by impacted eggs or tumor


bloating caused by organ failure


raised scales caused from too warm of water temperature or fever




bleeding eye caused by oxygen deprivation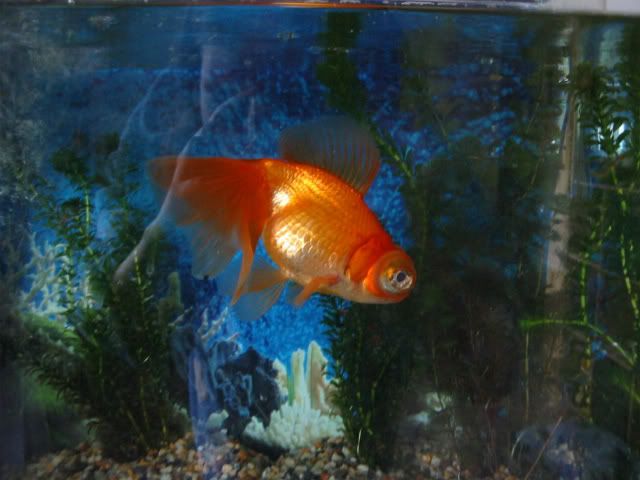 uncontrolled swimming caused by constipation or bacteria infection


shredded fins due to harmful bacteria in water caused by poor water quality
clamped fins caused by ammonia poisoning


missing scales due to harmful bacteria in water




abscesses caused by harmful bacteria
dorsal and tail fin eaten away by harmful bacteria; black marks; healing ammonia burns